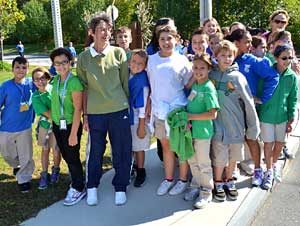 The School Wellness Coordinator, Marcia Picard, whose position is funded through Greater Fall River Partners for a Healthier Community, works with schools in Fall River, Somerset, Swansea and Westport to support wellness activities and policy changes. Working with the administration, school committees, school nutrition staff and health and physical education staff, Ms. Picard helps schools move toward a healthier environment for all students. Ms. Picard also coordinates with a wide variety of community resources to ensure that students and their parents can easily access them to lead a healthier lifestyle at home and in the community.
One of the premier wellness programs Ms. Picard is responsible for are the Family Fun Nights.  This is an opportunity for families to attend a program at their school that is completely FREE and together, they learn about community resources available to them, get a taste of what nutrition means, and discover ways to exercise that are free and fun. More importantly, the families members get to spend time together and enjoy each others company. 
For more information on School Wellness programs or to schedule your own Family Fun Night, contact Ms. Picard at 774-319-0107.
2017 – 2018 Family Fun Night Programs:
Alfred S. Letourneau School | October 24, 2017