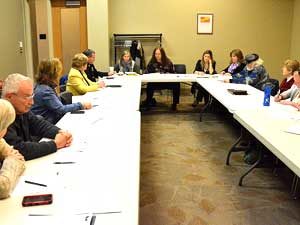 Representatives of various organizations have come together to form a Suicide Prevention Task Force under the leadership of United Neighbors of Fall River and  Greater Fall River Partners for a Healthier Community. The group was formed to respond to the rising incidence of suicides in Bristol County and to promote prevention, education and support services.
The group provides suicide prevention training opportunities to residents and employees in the Greater Fall River area. They also work to provide opportunities for Community Conversations to help reduce the stigma of suicide and to support families and individuals impacted by suicide. 
Coordinator: Wendy Garf-Lipp  | 508-324-7900, ext. 103
Meeting Time: Fourth Monday of the month at 10:30 a.m. 
Meeting Location:  Community Room, HealthFirst Family Care Center, 387 Quarry Street, Fall River, MA
Sun
Mon
Tue
Wed
Thu
Fri
Sat

Meeting – Suicide Prevention

10:30 am

Meeting – Suicide Prevention

@ Community Room, HealthFirst Family Care Center

Sep 25 @ 10:30 am

Meeting Time: Usually the fourth Monday of the month at 10:30 a.m. Contact Wendy to confirm the date and time of the next meeting Meeting Location:  Community Room, HealthFirst Family Care Center, 337 Quarry Street, Fall River Read More