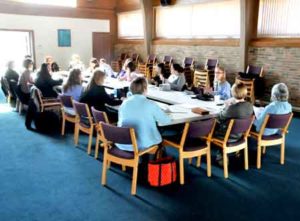 The United Neighbors Community Partnership (UNCP) is a collaboration of over 40 community and state agency representatives, religious leaders, local government staff and concerned citizens. The coalition comes together to share information and learn about all the resources that are available throughout our community. We are committed to promoting a strong, healthy and safe community, which will assist families in the promotion of domestic peace and tranquility, optimum growth and development of our children and secure and stable family environments. As a coalition we strive to coordinate and build on existing resources in an effort to develop strong, sustainable family support systems.
Meetings: First Monday of every other month at 9:45am in the chapel of St. Vincent's Home, 2425 Highland Ave, Fall River, MA.
(January meeting scheduled for January 8, instead if January 2 due to the holiday)
Contact Executive Director, Wendy Garf-Lipp  | 508-324-7900, ext. 103 for current information. United Neighbors is located on 209 Bedford Street, Suite 401, Fall River, MA.