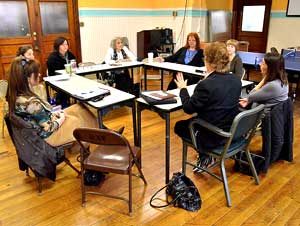 The Greater Fall River Coalition for Health and Well Being is an ad hoc group formed to support families that are homeless, living in shelters or scattered sites and families on the cusp of poverty. A joint endeavor of GFR Partners and United Neighbors, members of the group meet to continue their ongoing discussion of strategies to assist the families. The group is working on providing resources and assistance with accessing medical care, finding donations of clothing and personal care items, transportation, and options for recreation for the children who are living in very restrictive environments. Anyone with an interest in problem-solving for this at-risk population is welcome to attend the meetings.
Coordinator: Wendy Garf-Lipp | 508-324-7900, ext. 103
Meeting Time: Third Wednesday of the month at 8:30am.
Meeting Location: Community Room, HealthFirst Family Care Center, 387 Quarry Street, Fall River, MA.