When:
November 12, 2018 @ 8:30 am – 4:00 pm
2018-11-12T08:30:00-05:00
2018-11-12T16:00:00-05:00
Where:
Steppinstone, Inc. | First Step Inn Training Room
134 Durfee St
Fall River, MA 02720
USA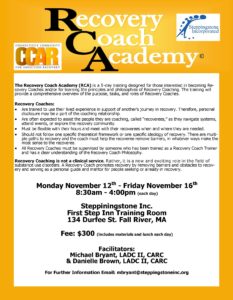 Download Registration Form.
The Recovery Coach Academy (RCA) is a 5-day training designed for those interested in becoming Re-covery Coaches and/or for learning the principles and philosophies of Recovery Coaching. The training will provide a comprehensive overview of the purpose, tasks, and roles of Recovery Coaches.
Recovery Coaches:
 Are trained to use their lived experience in support of another's journey in recovery. Therefore, personal disclosure may be a part of the coaching relationship.
 Are often expected to assist the people they are coaching, called "recoverees," as they navigate systems, attend events, or explore the recovery community.
 Must be flexible with their hours and meet with their recoverees when and where they are needed.
 Should not follow one specific theoretical framework or one specific ideology of recovery. There are multi-ple paths to recovery and the coach must help the recoveree remove barriers, in whatever ways make the most sense to the recoveree.
 All Recovery Coaches must be supervised by someone who has been trained as a Recovery Coach Trainer and has a clear understanding of the Recovery Coach Philosophy.
Recovery Coaching is NOT a clinical service. Rather, it is a new and exciting role in the field of substance use disorders. A Recovery Coach promotes recovery by removing barriers and obstacles to recov-ery and serving as a personal guide and mentor for people seeking or already in recovery.
Monday, November 12th – Friday, November 16th
8:30am – 4:00pm (each day)
Steppiningstone Inc.
First Step Inn Training Room
134 Durfee St. Fall River, MA
Fee: $300 (includes materials and lunch each day)
Facilitators:
Michael Bryant, LADC II, CARC
& Danielle Brown, LADC II, CARC
For Further Information email: mbryant@stappingstoneinc.org