When:
January 13, 2018 @ 3:00 pm – January 14, 2018 @ 1:00 pm
2018-01-13T15:00:00-05:00
2018-01-14T13:00:00-05:00
Where:
Lizzie Borden Bed & Breakfast/Museum
230 2nd St
Fall River, MA 02721
USA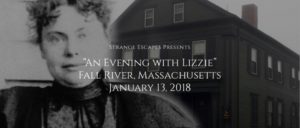 "Lizzie Borden took an axe…
Gave her father 40 whacks…
When she saw what she had done…
She gave her mother 41."
It's a morbid rhyme, recited by the children of New England for over 100 years. Lizzie Borden was a woman who gained infamy after being acquitted in the brutal ax murders of her father and stepmother in Fall River, MA. The house where the murders took place is a hotbed of paranormal activity and those with an interest in the macabre have been known to travel from all over the globe to spend a night investigating the fully restored mansion.
Featuring
Amy Bruni & Adam Berry
Aiden Sinclair
This is your chance to not only investigate the home, but to do so with renowned paranormal researchers, Amy Bruni and Adam Berry. Amy and Adam were staples on the SyFy network show, Ghost Hunters, for years. Now, they've returned with their own program, Kindred Spirits, which airs Friday nights on TLC. Known for their compassionate style of investigating, these two will spend hours teaching and coaching you on the how to of investigation, before taking you to the house itself.
Prior to investigating the Lizzie Borden house, but your evening will begin with dinner in the historic and elegant Abbey Grille. The building that houses this gorgeous restaurant was once the church where Lizzie Borden was a parishioner. What's more, while dining you will be entertained by world famous paranormal illusionist, Aiden Sinclair. (Featured on America's Got Talent and Penn and Teller's 'Fool Us')