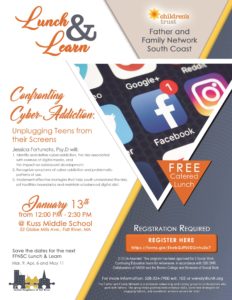 Lunch & Learn: Confronting Cyber-Addiction
Jessica Fortunato, Psy.D will:
1. Identify and define cyber-addiction, the risks associated with overuse of digital media, and the impact on adolescent development.
2. Recognize symptoms of cyber-addiction and problematic patterns of use.
3. Implement effective strategies that help youth understand the risks, set healthier boundaries and maintain a balanced digital diet.
FREE Catered Lunch
For more information: 508-324-7900 ext. 103 or wendy@unfr.org
2 CEUs Awarded: This program has been approved for 2 Social Work Continuing Education hours for relicensure, in accordance with 258 CMR. Collaborative of NASW and the Boston College and Simmons of Social Work
The Father and Family Network is a statewide networking and training group for professionals who work with fathers. The group helps professionals enhance skills, learn new strategies for engaging fathers, and coordinate services across the state.
Save the dates for the next FFNSC Lunch & Learn:
March 9
April 6
May 11