The Greater Fall River Partners for a Healthier Community taskforces, School-Community Partnership and Suicide Prevention Coalition, collaborated with
United Neighbors of Fall River and the Katie Brown Educational Program (KBEP) to sponsor Unpacking Stigma, an interactive training on November 28 at Diman Regional Vocational Technical High School.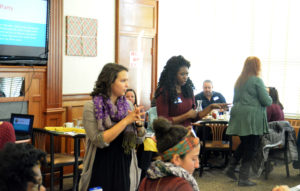 The session was a follow up to a World Café session held at Diman last spring which addressed stigma and ways to resist its hold on communities and their members.  One takeaway from that session was a need for more focus on stigma as it relates to workplaces, which was a focus of the session on the 28th.
Objectives for the session included an increased understanding of stigma, how to recognize stigma by exploring identity and privilege, and coming up with best practices to create workplaces that are welcoming to all.   
The session facilitators, Chwando Ofokansi and Jasmine Torres, both educators at KBEP, led participants in three interactive exercises, each of which raised questions and led to new insights on stigma.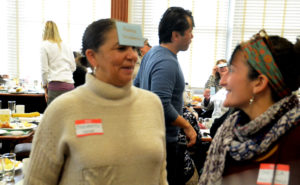 In the "Dinner Party" participants were given an identity card that they could not look at but would display on their forehead for other participants to see.  Then all would circulate among each other asking questions and seeking comments from others that would enlighten them as to their assigned identity.
This led to an extended conversation about how we react when confronted with others' stereotypes of ourselves.  For example, one participant heard several comments about sexual abuse which helped him identify himself as a Catholic Priest…..which raised the issue of ongoing stigma of the Catholic Church related to the sexual abuse crisis from 10-15 years ago.  Additional comments on identity related to gender issues, complicated by big differences in experience and perspective and the distinction between sex and gender – biology versus a social construct.  Positive stereotypes can also be harmful, and can be considered a form of micro aggression.

The "Finish Line" exercise exposed participants to aspects of privilege.  Participants lined up on one end of the room.  The facilitator would read a statement – anyone for whom it was an accurate description would take a step forward.  Some of the statements read:
Your boss is the same race as you are
You've never been the only person of your race in a crowded room
You've never been the only person of your gender in a crowded room
You've never been prohibited from entering a room
You never had to help pay bills to support the household you grew up in
You grew up with a father figure in the home
English is your first language
At least one of your parents had a college degree
Those at the front of the room were those who experienced a degree of privilege growing up.  The experience among all participants was diverse.  Some of those at the front expressed feeling some guilt and those at the back expressed some hurt.  A key learning from the exercise in addition to gaining insight on  privilege is that all of us are beings with multiple descriptors and no one aspect of our identity fully defines us.
The "Identity Wheel" called for participants to create their identity based on targeted and advantaged   social group memberships.  These would be illustrated as "slices" on a pie chart.  Membership that you  are more aware of will be a bigger slice than those you are less aware of.  The biggest slices on many  wheels tended to be gender and race.  Lesser slices included religion, age, and sexual identity. 
This exercise promotes self-awareness and a stronger sense of identity.  It also sheds light on the possibility of some being targets of stigma and prejudice based on their identity.  A challenge in the workplace is to change the culture from one that allows or ignores stigma and prejudice to one that mitigates and strives to eliminate it.   
In a final discussion participants and the facilitators generated a list of Best Practices to bring back to the Workplace:
l  don't make assumptions based on appearance
l  listen better and understand – practice active listening
l  recognize and promote alternative perspectives
l  educate yourself about stigma and identity
l  agree to disagree respectfully but also recognizing there are some ways that respect is not negotiable
l  talk/communicate
l  go beyond individual changes to changing the culture of the agency
l   stigma needs to be made important to people at top
l  resources available to help you take note of what's going on
l  be open minded
l  show empathy
l  Recognize your privilege and your biases