Apr
21
Sat
2018 Comcast Cares Day: Earth Day Alfred J. Lima Quequechan River Rail

@ Quequechan River Rail Trail
Apr 21 @ 9:00 am – 12:00 pm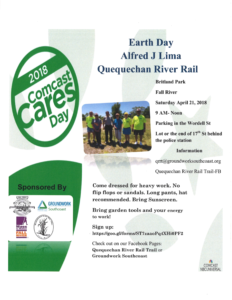 Parking in the Wordell Street Lot or the end of 17th Street behind the police station. 
Come dressed for heavy work
No flip clops or sandals
Long pants
Hat recommended
Bring sunscreen 
Bring garden tools and your energy to work!
FP – Bethany Gospel Church

@ 133 State Rd, Dartmouth, MA
Apr 21 @ 9:00 am – 11:00 am
Bethany Gospel Chapel | Lindsey Ln., Swansea
3rd Saturday of each month
508-675-0273
9:00 AM-11:00 AM
FP – Gates of Hope

@ Gates of Hope
Apr 21 @ 9:00 am
Gates of Hope | 112 Flint St. Fall River
Tues – Sat by appointment – Bring photo ID and
proof of address.
508-837-1962
FP – St. Anne's Church

@ St Anne's Church & Shrine
Apr 21 @ 9:30 am – 12:00 pm
St. Anne's Church & Shrine: St. Anne's Food Pantry
818 Middle St., Fall River
Saturdays
Picture ID required.
Clients can receive food twice a month.
508-674-5651
9:30 AM – 12:00 PM
Lunch @ Crossroads Community Fellowship

@ Crossroads Community Fellowship
Apr 21 @ 12:30 pm – 12:30 pm
Crossroads Community Fellowship
125 Mason St.
Meal served 12:30 PM
774-644-1551
Dinner @ St. Michael Parish Hall

@ St. Michael Parish Hall
Apr 21 @ 5:00 pm – 6:00 pm
St. Michael Parish Hall
189 Essex St., Fall River
Meal served from
5:00 PM – 6:00 PM
3rd Saturday
508-672-6713
Dance Night This

@ First Congregational Church
Apr 21 @ 7:00 pm – 10:00 pm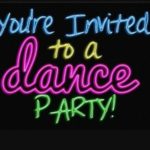 This social ballroom dance event is held on the third Saturday of every month from 7p.m. to 10 p.m. Doors open at 7 p.m. with a lesson at 7:45. Light refreshments & water is available with general dancing until 10 p.m. 
Apr
22
Sun
Tenth Annual Miles for Smiles (5k Road Race and Walk)

@ Fall River Industrial Park
Apr 22 @ 9:00 am – 12:00 pm
9:00 a.m. Kids' Fun Run | 9:30 a.m.  5K Run and Walk
To register for the race visit MFS2018.racewire.com.
Visit Firstgiving.com/SMILES/MFS2018 to help us reach our goal of $100,000.
About Miles for SMILES
The Tenth Annual Miles for SMILES will be held on Sunday, April 22, 2018.
By participating in Miles for SMILES by running and walking you will help create, support, and sustain mentoring relationships right here in the community. SMILES greatest challenge continues to be obtaining sustainable funding necessary to properly support SMILES so that we can continue to provide quality programming throughout schools in our region.
Racers are also encouraged to create fundraising pages by logging onto www.firstgiving.com/SMILES/Mfs2018
By helping fundraise for Miles for SMILES, you will help fulfill the mission of SMILES mentors to educate, inspire and engage leaders of the future.
Course
The Miles for SMILES race is a closed course race that will take place in the Fall River Industrial Park, just outside of 900 Riggenbach Road. Runners and walkers will be experience the scenic views of the industrial park while completing this semi challenging course.
The course route:
Please check back for details.
5K Awards
Top three male and top three female finishers will receive awards.
Kids' Fun Run
Kids ages 12 and under are invited to run a fun run course. Registration for the fun run is only available the day of the race with a parent/guardian present.
Top finishers in the following age categories will be awarded:
Top finisher in 5 years and under category
Top finisher in 6-9 years old category
Top finisher in 10-12 years old category
Bib Pickup
On Friday, April 20 from 1pm-4pm bib and t-shirt pickup will be available at People, Incorporated, 4 South Main Street Fall River, MA 02721. Participants are allowed to pick up other participants bibs but may not register another participant for the race.
Sunday, April 22 bib and t-shirt pickup will be at 900 Riggenbach Road from 8:00 am- 9:00 am. Same day registration will be available, however it is suggested that runners preregister.
Parking
Parking on the street and in some select lots will be available. Please check back for more information as the race date approaches.
Race Festivities
This family-friendly event will be celebrating the accomplishments of participants with an awards ceremony, food, face painting and a photo booth.
FP – New Life Worship Center

@ New Life Worship Center
Apr 22 @ 12:45 pm – 1:15 pm
New Life Worship Center | 1082 Davol St., Fall River
Sunday
Clients can receive food once per month.
401-232-5200
12:45 PM -1:15 PM
Lunch @ Salvation Army

@ Salvation Army
Apr 22 @ 1:00 pm – 2:00 pm
Salvation Army
290 Bedford St.
Fall River
Meal served from
1:00 PM – 2:00 PM
508-679-7900